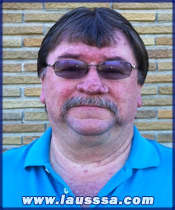 Richard 'Dickie' Davis,
Amite, LA: Director
Dickie began his USSSA career as an Umpire in 1981 under the leadership of Area Director Fuqua Sibley.
Dickie umpired throughout his 12 year USSSA tenure, and was invited to umpire in the USSSA Church World in Garland, Texas at the conclusion of the 1982 campaign. Each year after, Dickie umpired in various divisional, national and world events. In 1993 Dickie was invited to umpire in the Mens Major World Series. Unfortunately, due to circumstances beyond his control, Dickie was unable to work the Big One.
In 1992 Dickie was awarded the UMPIRE of the YEAR for the State of Louisiana.
Dickies desire to grow the USSSA program made the decision to appoint him as the Area Director for USSSA an easy decision. Dickie was appointed Area Director for the Hammond/Slidell area. Under his leadership, Area 7 grew larger almost overnight, due to his leadership skills, and his close connection to the local softball teams.
Mr. Davis is retired from the phone company. He and his wife, Kathleen, currently reside in Amite.
---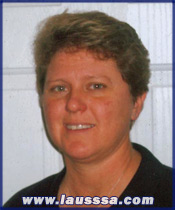 Melissa Frederick,
Scott, LA: Female Player
While most women start with softball, Melissa started in baseball (Scott Little League). She was a 4 year all-star pitcher/2nd baseman, (in Mustang & Bronco baseball) usually hitting out of the 5 spot. Baseball was her start but softball is her love.
On her high school softball team she was a 4 year starter and 3 year's all-district, MVP her senior year, while hitting .874. Whatever IT is, she had IT. She was rated as Louisiana Techs highest recruit prospect during a camp in 1984. Melissa was a very special athlete with a great personality and attitude to match.
Her softball career started 30 years ago with the Lady Jaguars. After more
than 3,840 softball games, from Oklahoma to Florida, Indiana to Missouri Melissas teams have been nationally ranked. She has won numerous regional and state tournaments, named all tournament & MVP in a few regional tournaments, the one she remembers the most is a class B regional tournament which they won while she went 21 of 22 while having 3 game winning RBI & getting the tourneys MVP. She has played at all levels from class A to D. She has played with 4 of the 5 women currently in LA HOF. Her 30 year batting average is .683 and if defensive stats were kept she would have been one of the all time greats. She has played every infield position in her 30 plus years of playing softball. Majority of the womens teams at state and regional level all knew her. Melissa was one of the first women 3rd baseman to have played co-ed in class A. When Pelican Park opened with turf infields, there werent any women playing 3rd base in co-ed on a competitive level. Her competition nick named her the vacuum cleaner.
While always striving to win, sportsmanship and teamwork was first and foremost for her. To see a great athlete compete and play at a high level with a smile on her face, win or lose is just one of the many reasons why she is a great inductee into the 2013 LA HOF.
Her passion and dedication for the game has provided many memories of travel while creating lifelong friendships along the way.
---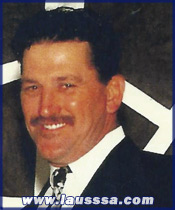 Rocky 'Black' Hebert,
Breaux Bridge, LA: Male Player
Rocky 'Black' Hebert is best known as the Rock to his softball friends and opponents. Legend has it that Rocky was born with a glove in his hand, as the young Hebert was playing ball at the age of four. When Rocky was old enough to ride a bike, The Rock would peddle himself to Rodney Verretts camp in Parks, for practice EVERYDAY. A roundtrip of 10 miles. The drive…wanting to be a GREAT ball player.
Rockys softball journey included the teams of: Mulates, Ron Guidry, Breaux Bridge Bank, Coin & Treasure and Curtis Monte. Participation with these local teams gained The Rock attention from the Big Boys, and subsequently gave him opportunities to play with Mississippi Grand Slam, Parker Breland, Bayou Oilfield Rental, as well as Athletic Shop, where they won a World Championship.
Mire KC Council 7411 was also a stop for Rock, where Mire captured three (3) KC National Championships. Rocky cherishes most his play with his lifelong friends and the BRIDGE softball team. Rocks career batting average was .650. And who could forget Blacks Tune-Up Classic tournaments in Henderson. Just more evidence of The Rock giving back to softball.
Hebert lives in Breaux Bridge with his wife Jill. They have three children, and eight (8) grand children. Rock is self employed.
Mr. Hebert indicates being inducted into the HOF, is a great honor and priviledge. What a way to end your career. Rocky says he will never forget the places he played, but more importantly, the friends he has made.
---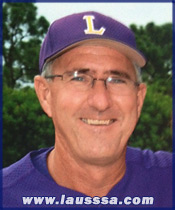 Leo McClure,
Hoschton, GA: Manager
Leo McClure becomes the 83rd inductee into the Louisiana USSSA Hall of Fame, however no other individual is more decorated during his sports and coaching career, than Coach McClure.
1973-77 - college basketball at Southeastern La University
Still hold single season and career assist records there
Played in and captain LABC college all star game
Played on GSC College all star team that toured Central America
1977-84 - head basketball coach Central High School in Baton Rouge
Several district championships and coach of year honors
1984 - 87 - assistant basketball coach at Southeastern La university
1987-89 - head basketball coach at Southeastern La university
1989-91 - private business in Baton Rouge
1991 - 93 - raised private funds and built Ball Park of Baton Rouge
1993 - 99 - Began hosting USSSA events - back in the paper trail days
hosted several State USSSA baseball and softball tourneys
Hosted 64 team 12aaa USSSA World Series with opening ceremonies
At LSU - Alex Box Stadium
2000 - 2013 - formed current program in USSSA Baseball - Louisiana Tigers
Started with one team for first few years, then grew program to 2 teams
And normally have 4-5 teams in 11, 12, 13 and 14 yr old divisions
Oldest son Trey McClure, former LSU all American, joined our organization
And was part of first Louisiana team to reach final 4 of USSSA Elite 32 -14 yr olds In Disney.
Youngest son Tanna also joined Tigers and was involved with
Several teams reaching Disney.
We have had 13 teams reach and compete in USSSA Elite 32 tourney
In Disney. Tigers have won numerous state titles and world series titles.
1991 - 16 year old World Series Champions - team was invited to and played
In Jr Olympic Super Series - viewed by USA Olympic Committee
1996 - Dizzy Dean World Series Runnerup 14 yr olds
2002 - NABF 13 yr old Worls Series Champions
2003 - USSSA 14 yr old - National Champs
2009 - USSSA 14 yr old Elite 32 - Final Four
2011 - USSSA 14 yr old Elite 32 - National Champions
2013 - USSSA 14 yr old Elite 32 - National Runner Up
Perfect Game World Wood Bat - National Runner up
The La Tigers have become a nationally recognized baseball program thanks to many dedicated young men
Along with their moms and dads. Over 150 players have moved on to play college baseball and over 35 have played some Level of pro baseball.
---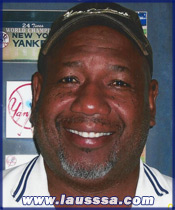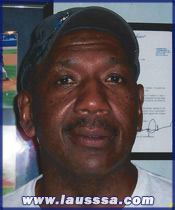 Amos & Percy Mosely,
Houma, LA: Umpire
The Moselys must be introduced as a pair. The umpired together, they traveled together, they partied together. They brought a new meaning to 'HAVING FUN' while umpiring.
Both Amos & Percy indicate they began playing softball competitively in their early years of high school. Percy indicated some of their early baseball games were 30 miles away, where they would take a bus, and hitch hike back. Amos says that the brothers got their start umpiring baseball and softball as fill ins, when the scheduled umpire failed to show. Their they got their baptism of fire.
Both brothers indicated the highlight of their playing careers was with NERO Lounge, and captured 9th place at the World tournament in Wooster, Ohio.
Amos & Percy began their umpiring adult softball in 1976. Their distinctive flare for umpiring gained them notoriety, and subsequently were asked to umpire throughout Louisiana, including the Cajun Classic Major NIT. Their umpire travels have takend them to EVERY softball location in Louisiana, as well as National & World tournaments in Louisiana, Texas, Mississippi and New Mexico.
Each indicated their Umpire highlight was umpiring in the Black American World Championship in Ft. Worth Texas. They also indicated the friendships they created from the Whole Enchilada Tournament in Las Cruces, New Mexico, will live with them forever.
---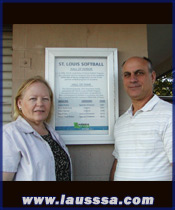 Ray & Mary Polito,
Baton Rouge, LA: Special
Ray was born into a family that was very active in sports, Mary Clare married into it. Growing up, Ray spent many nights at games watching his dad play softball and his brother and sisters play various sports. He started playing slow-pitch softball with Louis Mechanical and continues to play mens and coed softball today. He has played for all of the 41 years the St. Louis Softball program has been in existence.
Mary Clare had an interest in sports throughout high school but really got involved 36 years ago when she married into the Polito family. She has just retired as the St. Louis School Principal after 37 years in education. As a person who likes to get involved, and one quick to volunteer, it was only natural for her to become part of the St. Louis Softball Program. She runs the concessions program at the field, managing the supplies and serving customers for every game.
Mary Clare and Ray feel fortunate to be part of a successful, well-respected program. They are the second generation of Politos to run the St. Louis King of France program, continuing in the footsteps of Rays dad. Carlo Polito was inducted into the Louisiana USSSA Hall of Fame in 2001 for his dedication to softball and his work in building the program to be one of the best in the state at that time. Mary Clare has taken over for Rays mom, Mary, in running the concessions program. Mary Clare and Ray have kept up the good reputation of the St. Louis Softball program and are fortunate to be supported by dedicated volunteers. They now have the third generation of Politos involved and the fourth generation is in training. Some of the program volunteers are also in the Louisiana USSSA Hall of Fame, but many others have supported them in keeping it going.
They are proud to be part of a highly respected program. They appreciate the support and involvement of their family and the work of other volunteers, all of whom have helped keep the program viable for over 40 years. Mary Clare and Ray have 3 children (Tom, Clare, and Carl), daughter-in-law Amanda, son-in-law Jared and 3 grandchildren (Riley, Madison, and Ruth). They look forward to passing on the controls to the third and fourth generations.

---