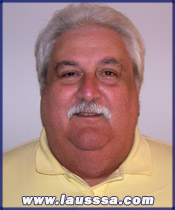 Ronnie Broussard,
Lafayette, LA: Director
Ronnie's love for slow pitch softball began as a player and umpire while still in high school and for many years after he played, coached, umpired and hosted tournaments throughout the Lafayette area.
Ronnie was introduced to USSSA in 1982 and has been involved ever since. In 1983 he began as a partner in what would eventually lead to the opening of Pelican Park in 1985. As a Tournament Director, he would oversee numerous USSSA State, Divisional and World Tournaments.
While serving as an Area Director, Ronnie began to restructure the training for sanctioned umpires. He implemented mandatory classroom, on the field clinics and required passing scores on written exams for all umpires. Along with 2001 Hall of Fame inductee, Rick Robertson, Ronnie was instrumental in establishing the Southwest Division Umpire Board that was designed to generate pride and provide consistent training and supervision for umpires in the entire Division. He also helped create recognition programs and travel money to reward umpires for their hard work with USSSA.
In 1987, Ronnie turned his focus to youth slow pitch and established the Ponytail Classic and the Bayou Invitational, both USSSA National Invitational Tournaments. They quickly became two of the largest and most respected youth events in USSSA. For the next twenty years he consistently drew some of the best boy's and girl's slow pitch teams from throughout the South and Southwest. During that time he also hosted numerous Youth State Championships and volunteered countless hours to help oversee youth programs for one of the city's largest organizations.

Ronnie was born in Lafayette and has lived here all of his life. He has been in the insurance and financial planning business since 1987 and currently is the President of his own firm. Ronnie and his wife Ginger, a nursing executive, have been married since 1974 and have one son, Kevin, a juvenile probation officer for the State of Louisiana.

---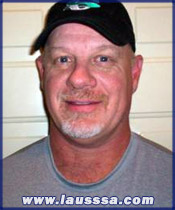 Danny Cloud,
Cordova, TN - Player
Danny was born in Ville Platte, but grew up in Lafayette where he graduated from Acadiana High School in 1976. He went to work for Kroger's at the age of 13 working his way up to department manager for Albertson's by the time he was 19 showing his leadership and management skills at an early age. Danny began playing and managing softball with the Albertson's employee league in 1977 and later moved to Gerald's Used Equipment men's team and Babb's AC coed team that finished second in the World Tournament in Houston, Texas. Danny participated in his first Men's World Tournament in Lawton, Oklahoma with the D&L Tire team out of Lafayette. Cloud then helped organize, manage and play with one of the finest teams that not only Lafayette had seen but the state of Louisiana as well, TEC/Allied Tire/Coin and Treasure that was ranked #1 in USSSA Men's Class A. Danny went on to work with Pat Quinn Productions out of Canada to make the softball instructional video, "Slo-Pitch, the Championship Way" filmed at the then new Pelican Park.
Danny moved to Memphis, Tennessee in 1987 and continued to travel south to play with his boys from Louisiana. He played Major and A ball for three years with Bryan Tours of Jackson, Mississippi, then with Lane and Associates, Lafayette Fire and Safety and LA Bag from Louisiana sometimes driving in excess of 1000 miles a weekend to play!!!
Danny is still living in Memphis and can be found at one of the ball parks any night of the week. He continues to play competitive ball in Men's, Masters and Coed and coaches a Women's Team as well. Cloud has kept a batting average over .700 and has hit in excess of 1400 home runs. He has garnered numerous awards throughout his career including the 1987 "MVP" Award at the Busch Classic in Little Rock, Arkansas, 3 time Defensive Player Award at the Worth Classic in Jackson, Mississippi from 1988-1990, 2001 Offensive Player Award at the 40 and Over World and 2006 "MVP" Award at the Coed World. Danny has been named to 15 All Tournament Teams throughout his career at Regional, National and World Tournaments. With everything he has accomplished Danny says that none of it is possible without good teams, great teammates and a wonderful family to support him.
Currently employed by PFSWeb in Memphis as the Traffic Manager, Danny has 5 sons, Daniel P. (30), Nicholas (28), Benjamin (24), Jordan (17), and Sawyer (4) and 7 grandchildren. His parents and 2 sisters still live in Louisiana.

---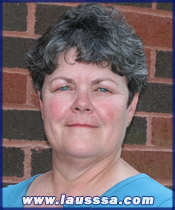 Marsha C. Hebert,
Thibodaux, LA - Player
Marsha was born in Lafayette and lived there until she moved with her husband, Darrell and two sons to Thibodaux in 1990.
At the age of 13, Marsha became actively involved in playing softball. She thrived on playing a game she loved so much. Throughout her storied career, Marsha played in seven National Tournaments and finished in the top ten twice. In 1973 she received All Tournament Third Base Honors. Softball has played a major role in who Marsha is today. She learned the importance of discipline, team work and sportsmanship.
Marsha currently works at Nicholls State University and husband Darrell coaches baseball and football at St. James High School. Her sons, Joshua, a Physician Assistant and Derek, a senior at Nicholls in Geomatics, both actively played softball while growing up and could not have had a better role model than their mother, Marsha C. Hebert.
---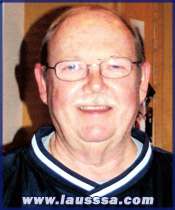 Rocky Olivier,
Lafayette, LA -Manager
Rocky was born in Lafayette, lived in the Acadiana area for the first five years of his childhood, moved to New Orleans at the age of six when his Dad was transferred and grew up in River Ridge. Rocky went on to play football and baseball for East Jefferson High School in Metaire. He then attended and graduated from USL in Lafayette.
Olivier's passion for softball and coaching got it's start while attending USL, He coached and played Intramural Softball and coached a pee-wee football team in Bob Morgan's Pee-Wee football program.
Rocky began coaching girls when his oldest daughter, Melanie, was ten and he was the assistant coach at BYYA in Broussard and St. Cecilia School as well. When his second and third daughters, Catherine and Terri were ready to play he coached and became Vice-President of the BYAA softball association. One of his proudest accomplishments was bringing girls softball from being on the back fields in the back of the park to a place of equality with the boys.
When Catherine and Terri turned eight and seven, Rocky formed an all star team from BYAA and finished second in the USSSA State Tournament. The next year he again formed an all star team and they went on to become USSSA State Champions. It was from these two teams that the 1991 Ray Oil Tool Rockettes were formed. Rocky and Co-coach, Lennie Zeringue, joined forces the next year and the Ray Oil Tool Rockettes went on to become the most successful youth team from the Acadiana area. They won 4 USSSA State Championships and attended the USSSA World Tournaments from 1991 to 1999. Their highlight came in Detroit in 1996 when they finished as national runner-up.
In 2003 at the urging of 2006 Hall of Fame inductee, Neggy Trahan, Rocky began coaching a 10 and Under fast pitch team for Cajun Express. He has coached them for four years and the highlight so far has been a 5th place finish in the USSSA world tournament in Augusta, Georgia.
Rocky currently serves as Vice President of the Cajun Express Softball Association. He has served as Youth Coordinator for USSSA and was honored to serve as Tournament Director for two USSSA World Tournaments. Olivier has been a volunteer coach for basketball and softball at St. Cecilia School for 18 years.
Rocky and his wife of 31 years, Charlene, live in Lafayette. He is the Southern US Completions Manager for MI-SWACO and she is a retired custom decorator. They have four daughters, Melanie, Catherine, Terri, and Lauren.

---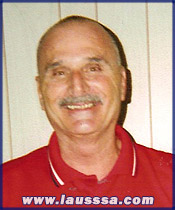 Don Ray Richard,
Youngsville,LA - Umpire
Don Ray was born and raised in Lafayette. He attended school on the north side of town. He began his sports career playing in Little League Baseball and then moving to American Legion. In 1965 he began playing Fast Pitch catching for his father and continued playing it until 1969 winning the State Championship along the way.
Don Ray's umpiring career got its start when he called hard ball and softball for Mr. Chris in ASA. Once the city changed over to USSSA in 1981 Don Ray began calling Slow Pitch and is still doing so today some 27 years later. He coached and played from 1970-2002, served as a softball director from 1990-2002 and received the Louisiana Umpire of the Year Award in 2003.
Don is currently employed by the City Parish Government and he and his wife Gail have been married for over 41 years. They have three sons, Chad a Mechanic III at the City Parish Government, David, Chief Petty Officer US Navy stationed in Biloxi, Mississippi, Kevin a Field Supervisor for the City Parish Government, 3 grandchildren and 1 step grandchild.

---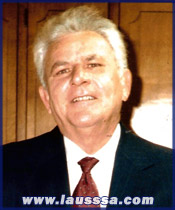 Lennis Touchet,
Carencro, LA, Special
Born to sharecroppers Linus and Anna Touchet, Lennis was the 9th of 10 children. Growing up poor and sometimes with no shoes to wear gave him a strong work ethic.
Lennis attended school in Milton and boxed on the high school team. Through self discipline and hard work he became the 1956-57 Louisiana Golden Glove State Champion.
In 1983 Lennis began enjoying softball playing for and sponsoring teams such as the Knights of Columbus, Cajun Invasion, and Touchet's Paint and Body Shop. As the years passed by he not only sponsored adult softball but girl's softball and boy's baseball as well.
Lennis opened his business, Touchet's Paint and Body Shop, in 1988 and semi retired in 2005 turning it over to his son. Now, he has time for his hobbies of golf and horse racing.
Lennis has been married for 47 years to Birdie Alleman Touchet and together they have one son, Tim, who is married to Debbie Devillier Touchet. Lennis' pride and joy are his three grandsons, Tyler who works with the Lafayette Parish Sheriff's Office, Tad a sophomore at Teurlings Catholic and Tanner a 7th grader at Sts. Leo-Seton Catholic.

---