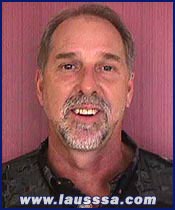 Robert "Bobby" Cormier,
Lafayette, Player
Bobby's softball career began in 1971 right after high school and he continues to play today, some 35 years later. Bobby said that he enjoyed playing team sports and softball gave him that opportunity to do so. Over the years he played with several local teams; Prudomme Tire, Golden China, Miller Beer, Schlitz-Old Milwaukee, Curnis Montet Roofing, Stevens Mobile Homes, Mire KC's and Teurlings KC's. Playing with these teams helped pave the way for Bobby Cormier to play with some of the top teams in Louisiana as well as the country with the likes of Bayou Oilfield from New Iberia, LA, Athletic Shop out of Hammond, LA and Dallas from Dallas, Texas. While playing with these powerful teams, Bobby and his teammates won some 20 State Championships and three (3) National Titles. Dallas was one of the top eight (8) teams in the country and afforded him the opportunity of competing in the Men's Major World Series in Greensboro, North Carolina.
Over the past 35 years Bobby has hit 1,758 home runs and carries a hefty .680 batting average.
Bobby says that never in his wildest dreams did he think he would be in the Hall of Fame along side such outstanding players he has played with or against like Rodney "Butch" Alleman, Danny Robicheaux, Chip Hebert, Mike Rose, Myles Schexnayder, Terry Magee, Larry Fredieu, Mike McCarron and now Larry Hensgens.
Bobby and his wife Charmaine are the parents of two grown adults, Heather and Lance, and they reside in Lafayette. Bobby is currently employed by the Lafayette Parish Government.
---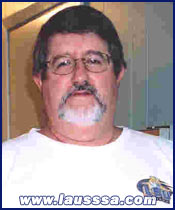 Gaudy "Bitsy" Dore,
Duson, Sponsor/Coach
Gaudy's career began in 1966 as a fast pitch player in the high school ranks. He continued to play through 1969 before he moved onto Slow Pitch in the city league here in Lafayette. Bitsy played for about 10 years after high school while coaching a girl's softball team and that is where he found his true place in Louisiana softball, coaching. Over the year's Bitsy and his teams have traveled thousands of miles to dozens of states. From 1993-1999 he coached and sponsored a men's team by the name of R&B Trucking. Bitsy next branched out and got involved coaching mixed teams and they played as C&M Trucking from 1996-2001 and changed sponsorship to R&B Trucking from 2002-2004. His next adventure found him coaching a women's team in 2003 called Acadiana Doors. In 2004 and 2005 his current team the R&B Trucking/Dudley women's team.
Bitsy says that throughout his travels across Louisiana and the United States he has had the opportunity to meet many great people through the game. He feels the major difference today as compared to the past is the commitment to the game.
Bitsy Dore is truly humbled by his election and induction into the Louisiana USSSA Hall of Fame. Bitsy is a business owner today as he owns and operates R&B Trucking, and he and his wife Debra are the proud parents of two grown children, Jeremy and Jaime. Bitsy and Debra reside in Duson, Louisiana.
---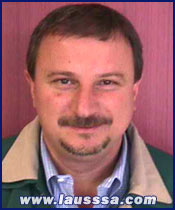 Ed Hebert,
Broussard, Director
Ed's career as an athlete began in his High school years with a broken nose playing baseball and a broken arm playing basketball. He moved on to college to become a USL bus driver driving the basketball, football, baseball teams and their respective cheerleaders to various events. Having a Chauffeur's license (priceless).
Ed played on the intramural Slow Pitch teams, as well as the 1977 Fall Class Doubles Championship Tennis team despite suffering a pinched nerve from a sneeze while bending over that led to 8 weeks rehab and crutches. He finished his college career dancing, partying and playing the field, which was more of an art than a sport ... too many broken hearts.
Hebert's post college career as a Slow Pitch player was him just being happy to get on 1st base and then getting excited over the occasional double on errors. As a coach or better Roady, Ed was involved with various teams such as Marichells (women), Evangeline Downs (women), Denim & Diamonds (mixed), Petro Drive (corporate), BOCO (corporate), and Golden China (men's "A").
In 1987 Ed became the Louisiana USSSA State Mixed Coordinator and later became the Industrial Coordinator as well. He was named Director of the Year while serving as Robert Boudreaux's right hand man. He served as a Tournament Director and Promoter of Louisiana USSSA in the Lafayette area hosting various qualifiers and State Tournaments. Ed assisted whenever and wherever he was called upon across the state. He even put on umpire clinics to help local teams to be able to throw fund raising tournaments. He attended numerous State, Division and National Meetings including Las Vegas, where he married his lovely wife, Daphne in 1991.
Ed fondly recalls his days as a writer providing reports to various local, regional and national newspapers especially "Grits and Griyards" He claims to be blamed for the closure of Pelican Park as he and Robert put on numerous, massive, quality USSSA events drawing teams from all parts of the state, division and country and then blamed for the reopening of Pelican as well; as a member of Sports Inc. who accepted the challenge to once again jump start the facility as the cornerstone of the city of Carencro's Recreation Program.
Ed Hebert is a man of few words but most certainly is a protector of the image of Louisiana USSSA. Ed and Daphne currently reside in Broussard, Louisiana. Ed is employed as an oilfield sales person.
---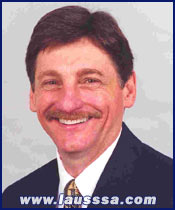 Larry Hensgens,
New Iberia, Player
Larry began playing ball in 1971 with the Columbian Squires after having followed his Dad, "Square", to the ball park at an early age. He continues to play today having played in 2,665 games and counting! His tournament teams include Begnaud Exterminating, Sorrel Electric, Superior Valve, Royal Construction, Sugarland Exterminating, New Iberia Jaycees, Knights of Columbus Council 3425, Habetz Roofing, Curtis Montet, Acadiana Merchants, The Bridge and Segura Farms.
Throughout his career teams Larry played for won numerous league, state, regional, and national titles and he made a number of All Tournament Teams along the way culminating in him being named 2005 MVP in the Five Flags Senior Classic in Pensacola, Florida.
Larry nicknamed, T-Square and Legend has played for 35 years and counting. He once reached base 34 consecutive times and his longest hitting streak was 64 games. In 2005 he reached base in all 72 games with a 53 game hitting streak helping him secure a .708 batting average with 199 hits in 281 at bats. Larry's lifetime batting average is .682 with 7,015 hits in 10,286 at bats. He is not known for his power as he has knocked only 15 home runs out of the park in his career or 1 every 2.33 years or 1 per 686 trips to the plate.
Larry is married to wife Lynette and they have three children, Lauren, Christian and Logan. He currently is Senior Vice President at Community First Bank and very involved in the community as a volunteer for the Special Olympics, American Heart Association, American Cancer Society, Iberia Chamber of Commerce, Ducks Unlimited and the Boys and Girls Club. Larry also has served as past President of the Cajun Kiwanis, Foundation of Assistive Devices, New Iberia Sports Association and the Leadership Iberia Alumni Association.
Larry currently serves as Co-Chair for the New Iberia Recreational Department Softball Hall of Fame and received the Captain Stanley Lancon Sportsmanship Award for the New Iberia Recreation Department.
---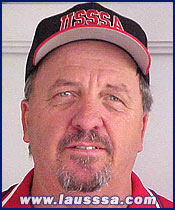 George Sapia,
Gheens, Umpire
George's umpiring career began as a teen in a youth league in Raceland, Louisiana. He played and coached for some time, but his heart was always in umpiring. He has been umpiring for twenty years now with the last fifteen being strictly with USSSA. Over the past seven years from 1999-2005 George has umpired 1,850 games averaging 263 games per year. Sapia was named Louisiana USSSA Umpire of the year in 2000 and has called in numerous State, NIT, National and World Tournaments throughout his career. George has had the pleasure of umpiring in the last seven Whole Enchilada Tournaments in Las Cruces, New Mexico, which happens to be the largest USSSA tournament held each year.
He has always loved umpiring the game especially being able to work with and teach younger umpires. He loves the opportunity to be able to travel and umpire with his second family of umpires and wives.
George has been married to his wife Glenda for the past 35 years and has two sons, Glenn and Greg. He is currently employed by Bollinger shipyards in Lockport, Louisiana as an outside machinist foreman and has been for the past twenty years.
---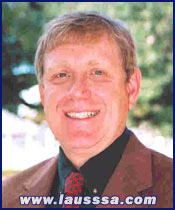 Randy Smith,
Lafayette, Special
Randy first started playing ball at a young age in Natchez, Mississippi … was a pitcher in High School and at Co-Lin JC and a basketball player at Delta State University. He played fast pitch in 1968 and after college went to the oil fields of Iran to work on rigs for SEDCO.
Randy quickly found out they had a softball field and played on time off from the rigs in Ahwaz, Iran leagues from 1974-1976 where the team won the city championship in 1976. He then transferred to Dallas, Texas to play B & C softball there for two years and then to Aberdeen, Scotland to play while in the North Sea ... then back to Dallas for two years playing until he lost his job and came to Lafayette, Louisiana in 1988 with Tenneco. After getting laid off Randy started Randy Smith Well Control Training with wife Helen and started to play and sponsor basketball and softball teams around the area.
He loves to give out shirts and hats to players, umpires and coaches for incentive and marketing purposes. He has sponsored Randy Smith teams in Lafayette from 1989 in Class C, D, E and Senior and Major Plus. Smith currently sponsors a Senior Major Plus team, a Thursday night D team, a Senior Wednesday League team, a Class D team, a Senior Olympic team, a British Masters basketball team and a Senior Black America softball team that just won the 2005 National World Championship for the 2nd time. Randy also helped sponsor and play on a Sports Reach softball ministry team that plays in Federal and State prisons in Louisiana, Texas and Colorado. As CEO of Randy Smith Training Solutions with offices in Scotland, Columbia, Egypt and the United States, Randy has been married to Helen Moss Smith for 31 years and they have four children; Hanna, Los Angeles, California, Marietta, Dallas, Texas, Randall at LSU and Andrew at Lafayette High.
---