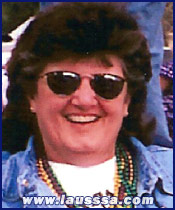 Donna Gilbert, Class of 2001, Manager,
Inducted on Saturday, October 13, 2001; Hilton Lafayette & Towers
"D" as she was affectionately known by family and friends, passed away on August 4, 1999. She was a popular figure at softball fields for 23+ years, and today is still memorialized in softball circles throughout South Louisiana. She played and/or coached in every park in Lafayette and Acadiana, took several teams to national championships and played in numerous tournaments throughout the Gulf Coast area. Although she never claimed a national championship, she left a mark where ever she traveled and claimed numerous league titles in Lafayette and Carencro. Whether it was coaching the ladies, or managing a mixed team, she held the respect and love of all. Donna was a familiar face at Pelican Park and all can remember her last experience there was an ejection while coaching. Even though this was a day of "chemo" treatment, she told all who she encountered after the incident, the the umpire "was right...I knew better." She is definitely one of the people considered to be a "good guy" and has been missed by all.


---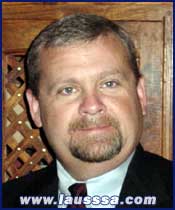 Joey Odom, Class of 2001, Director,
Inducted on Saturday, October 13, 2001; Hilton Lafayette & Towers
Growing up in Vicksburg, MS, Odom was exposed to the game of slow pitch at a very early age as his father was an avid player/coach and his mother was a recreation professional involved with the administration of the adult league. Odom began umpiring at ripe age of sixteen and admits he enjoys umpiring and would like to be out on the field more. Odom's true expertise comes in the area of director. As early as 1984, Odom was hosting USSSA events in the Monroe area and in 1986, Odom was appointed USSSA Area Director for the Monroe area. Shortly after, Joey became the park director at Drillers Diamonds in Baton Rouge, a USSSA affiliate. Since then Odom has served in the public recreation sector, serving stints at Baton Rouge Recreation and Lake Charles Recreation, where he was the Director of Parks & Recreation. Currently, Odom serves as the Director of Parks & Recreation for the City of Carencro, which includes the managing of Pelican Park. Odom was distinguished as the "Louisiana USSSA Director of the Year" in 1995, 2000 USSSA New South Division Director of the Year and 2000 National Baseball Director of the Year. Odom currently serves as USSSA State Baseball Director and Assistant to the Executive State Director of Louisiana USSSA.


---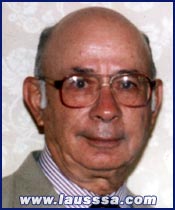 Carlo Polito, Class of 2001, Special ,
Inducted on Saturday, October 13, 2001; Hilton Lafayette & Towers
Carlo was a classic example of someone who "built" a program. Aftter participating as a player, and then as a coach, Carlo envisioned a need and began a mission for a new softball program. In 1973, he enlisted the help of his family, friends and players and began construction of a softball field on the grounds of St. Louis King of France Catholic Church in Baton Rouge. Improvements were added every year and the program was such a success that another field was required. An average summer league would include 60 teams of men, women, boys and girls. St. Louis also hosted numeous tournaments and drew teams from Texas to Florida. St. Louis also played host to numerous state, regional and national events, as St. Louis was considered one of the premier softball fields in the country. Approximately $100,000 of softball proceeds have gone to projects and improvements to the church and school. For 24 years, Carlo was the leader of a volunteer "family" whereby he regularly performed duties such as commissioner, park director, umpire, coach, concession worker, field crew, bookkeeper and scheduler. His service to others began, and ended, with a true love of the sport. And who could forget his golf cart with the "Field Boss" proudly displayed on the front bumper.

---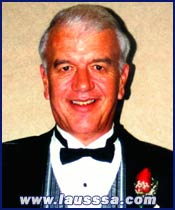 Rick Robertson, Class of 2001, Umpire,
Inducted on Saturday, October 13, 2001; Hilton Lafayette & Towers
Rick's career with USSSA began in 1981 when Robert Boudreaux sold the program to fellow inductee, Carlo Polito, Rick, and a few other softball enthusiasts during a meeting in Baton Rouge. Rick's first opportunity to umpire in a World Tournament came during the 1981 Church World in Pine Bluff, Arkansas. He has umpired, tournament directed and been umpire-in-chief in numerous local, state, divisional, national and world tournaments. Rick went on to become the first umpire in USSSA history to call in the Men's Major, Women's and Mixed World Series. Robertson has been serving as Area 6 (Baton Rouge area) Director and Umpire-In-Chief for Louisiana since 1982. Rick has served as Division and Region UIC conducting clinics across the country. Robertson continues traveling as USSSA National UIC for slow pitch softball, after being appointed three years ago. Throughout his thirty-one year career, Rick has received numerous awards including Louisiana Director of the Year in 1984, 1985 and 1994. In 1983 he was awarded the Southwest Division Umpire of the Year award, and in 1994 was honored with the Southern Region Umpire of the Year award. Rick was awarded the National Umpire-In-Chief's award in 1987 and was elected into the St. Louis King of France Wall of Fame in 1992. Robertson received USSSA's highest recognition when he was inducted into the USSSA National Hall of Fame on November 8, 1996. Rick resides in Baton Rouge and is employed by 4B Plastics, Inc.

---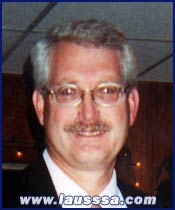 Mike Rose, Class of 2001, Male Player,
Inducted on Saturday, October 13, 2001; Hilton Lafayette & Towers
Mike resides in his hometown of Shreveport, where he started playing slowpitch softball in 1971. Mike played on several top teams in Shreveport including B&W Sports, the championship team of the first Cajun Classic in 1979, and Rebel Drilling in the early 1980's. After one season with Slocum Construction (1982), Rose made his way into Texas where he played for nationally ranked Cable TV, Morgan Boots, and Dallas Softball Club. Playing for Cable TV in 1984, Rose was named All World Shortstop. Mike concluded his play at the top level with a tour of duty with Marlton Trucking, Portland, Oregon, and ended the 1987 campaign as the number three (3) team in the country. During his 30 year career, in which he is still active, Rose has cranked over 2000 homeruns and counting, while batting .640 lifetime. Rose was named MVP in two seperate USSSA World Qualifiers hitting an amazing 30 homeruns, while hitting at a .800 clip. Rose, who stands 6'7" has played shortstop since 1983 but played outfield prior to that in which he was given the knickname of "Spiderman" by his cajun friends for his fence climbing catches. Mike is an active member of Marian Knights of Columbus Council #3779, where he continues to play in the K.C. State Softball tournament. Mike is employed by the U.S. Postal Department.

---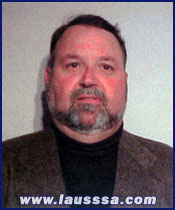 Neal Swanner, Class of 2001, Director,
Inducted on Saturday, October 13, 2001; Hilton Lafayette & Towers
Neal began his thirty plus years of softball with his first women's team in the spring of 1971. Swanner coached women's teams through the fall of 1988 and then found time to coach men from 1989 to 1992. In 1993, Neal opted to devote his softball time to the operation of Heroes Park in Thibodaux and his USSSA directorship. Neal has served as TD of countless USSSA Qualifiers, State Championships, Divisional Championships, and National Championships. Swanner has also served as TD for the largest, single weekend tournament, where 250+ teams gather in Las Cruces, New Mexico for the "Whole Enchilada" softball tournament, on the first weekend of October. Neal has served as Area Director for 15 years, and has been selected Louisiana USSSA "Director of the Year" four times, in the years of 1992, 1995, 1996 and 1997. Neal was recognized with the Mel Buttrum Award of Merit in 1994, and the Dwight Hall "Sparkplug" Award of Merit in 1995. Neal has served as the voting delegate during USSSA National Conventions since 1993. Swanner currently resides in Thibodaux, and he and his brother own a successful restaurant franchise.

---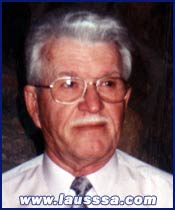 Billy Walden, Class of 2001, Manager/Director,
Inducted on Saturday, October 13, 2001; Hilton Lafayette & Towers
Billy first became interested in slow pitch softball in 1976 after attending games in which his employees were playing. He then began coaching a team for his employees the following year, and sponsored the "B&W Sports" team from Shreveport during the 1979 and 1980 seasons. B&W Sports captured the first Cajun Classic in 1979. Walden was appointed Area Director for the Northern portion of the state in 1982, and will receive his 20 year service pin at this years national convention. Walden's coaching talent moved to Bruce's from 1981-1984. His expertise won Bruce's the USSSA "B" State Championship in 1981, and the "A" State Championship in 1982, 1983, and 1984. Walden's Catamounts also won the "A" State title in 1987. Walden also led his troops to World Tournaments in Hutchinson, Kansas (1982); Petersburg, Virginia (1983); and Orange County, California, 1984. Walden successfully bid and hosted the USSSA Church World Tournament in 1987, and the 1996 Armed Forces World Tournament. Walden is currently employed by the City of Bossier City, and resides in Shreveport with his wife Jean.


---