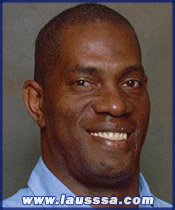 Jerry Arceneaux,
Church Point, LA: Umpire
Jerry was born in Jennings, Louisiana, and was raised in Mermentau. He participated in basketball and track & field in both junior high and high school, and he and the Midland Rebels captured a LHSAA Basketball State Championship in 1977. Upon graduation in 1979, Jerry began officiating for the Mermentau recreation department in the areas of softball and basketball.
It did not take long to see Jerry's passion for officiating as he sought additional training from various associations to develop his passion This is where he came across the USSSA and joined the local umpire association in Lafayette. He subsequently attended two National Umpiring Clinics, and earned by ability to officiate in numerous local qualifiers, NITs, State, Divisional and World Championships.
Jerry list his greatest accomplishments as having officiated in the Black American World Tournament and Military World tournaments in slow pitch, and later in time, umpiring in the Girls Fast Pitch World Tournament.
Jerry has been married for 21 years to Evelina, and they are the proud parents of twin daughters Alicia and Felicia, who are currently students at LSU Eunice. The Arceneauxs are also raising their great, great nephew Jamire.
---
Mary Ayo,
New Iberia, LA: Director
One of the most prolific people to wear the hat of USSSA Director is our second inductee, Mary Ayo.
Mary was managing a softball team in New Iberia area in the late 70's/early 80's and was asked to join the USSSA as it's women's director. Mary served as Women's Coordinator from 1983 to 1989, and brought much needed leadership to the women's program, which enabled tremendous growth in the women's program during her tenure.
Ms. Ayo was awarded the 1986 Southwest Division Director of the Year. She has also been recognized as the Louisiana State Director of the Year on two separate occasions as well. Mary has served as tournament director for countless state and national tournaments, including the once popular "Lady Luck Invitational". Mary has also served as TD for the Girls Slow Pitch World Tournament played at Pelican Park.
Mary provided a multi-level and skills softball program in which women were proud to participate. Ms. Ayo brought the women's program into the spotlight, away from the uncut, unkept fields. Mary was also instrumental in creating the"minor's release" for young ladies to participate in the women's programs.
Mary's fondest memories was the opportunity to meet people traveling across Louisiana and the USA. Mary noted the work was difficult in the early years, but the rewards made it fun.
Mary's driving force was her effort to make sure the women got their money's worth. She worked extremely hard to make the women feel special.
Mary was inducted into the LHSAA Hall of Fame in 2008 as an Official/Coach.
---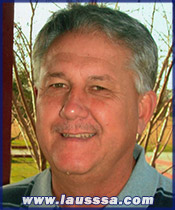 Mike Broussard,
Carencro, LA - Player
Mike Broussard was born in Lafayette and moved to Carencro in 1972. Mike was an excellent high school athlete, and excelled in baseball. "Large" started playing organized slow pitch softball in 1974 in various youth slow pitch events in the Acadiana area. Mike's talent was detected early, as Mike was able to "flash the leather" and was a high demand player early on. Ron Guidry Enterprises, Oil City Merchants, Breaux Bridge Bank were teams Mike played for during the early years, and his defensive prowess at short stop was unparalleled. His defensive abilities brought him to teams such as D&L Tire, Golden China and Curnis Montet.
Mike has played in several USSSA world tournaments and has untold all tournament selections. Mike indicates he maintained a .725 lifetime batting average, and clobbered 485 home runs in his slow pitch softball career.
Mike has been extremely active in youth sports as a coach in youth baseball, and subsequently served as President of the Scott Area Youth Association, and developed the program into the dominant force it is today, in Lafayette Parish athletics.
Mike is married to Debbie Landry from Breaux Bridge and they are the proud parents of two sons, Ryan and Kyle.
---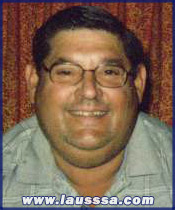 Francis "Bee" Chiasson,
Rayne, LA - Umpire
Bee first began umpiring when he was only nineteen. He continued to also coach and play softball in the local leagues, but he knew right away that umpiring was his true passion.
By the time he was introduced to USSSA in 1982, he was already a seasoned umpire. But he quickly recognized that USSSA would give him the opportunity to take his umpiring to a new level.
In 1984, he was selected to umpire in his first national tournament, the Class "C" Divisional Championship in Oklahoma. Over the next thirty years, Bee was chosen to officiate in many more USSSA National and World Tournaments including Muncie IN, Hutchinson KS, three times in OK, and TX five times.
He served on the Board of Directors for the Cajun Umpires Association for many years including two terms as its President. He trained adult and youth umpires throughout the local area and became a mentor to many of his peers. As a result, on four different occasions, he was selected as the Association's Umpire of the Year, and in 1992, was honored as the USSSA Divisional Umpire of the Year.
For fifteen consecutive years, Bee was asked to serve as Umpire-In-Chief and Assistant Tournament Director for the Ponytail Classic and Bayou Invitational, two of the largest USSSA Youth National Invitational Tournaments in the South.
Bee retired from umpiring in 2005. Since that time, he has worked in the oilfield transportation business. He and his lovely wife Ruby have been married since 2004 and currently live in Rayne, LA along with his four step-sons.
---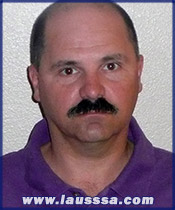 David Rome,
Schriever, LA -Manager
David Rome a life long resident of the Thibodaux area and graduated from Thibodaux High in 1981, and Nicholls State University in 1986, with a degree in education. Mr. Rome is married to Cindy Duet Rome, and they are the proud parents of two children, Courtney and Brett.
David began playing slow pitch softball in the 4th grade, as there were no baseball teams in the area, and his love of the game began at that early age.
David's adult softball career began in 1980 as he played for Lou's Cabinet Works. David remembers his coaching career began with the second team he played with, the Vacherie Tigers and recounts his managerial responsibilities beginning as early as 1984.
Mr. Rome subsequently coached some of the better players from the Thibodaux area on various teams including Bud Light, Busch, Heart Center of Lafourche and The Cabin. David's coaching career came to a culmination with Bubba's II Poboys from 2000-2002, where Bubba's was nationally ranked in the USSSA ranking system.
David has State Championships in 1992, 1997, and 2000 in other softball associations and can only lay claim to a USSSA State Runner-Up in 1996 and a 2002 3rd place finish.
David was an accomplished USSSA umpire for over 10 years, and also served as an Assistant Area Director for Neal Swanner, helping to run various local qualifiers, NITs and National Tournaments.
---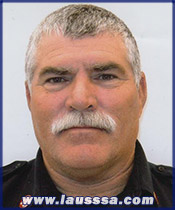 Ricky Spell,
Crowley, LA - Player
"Hammer" as he is affectionately known across the country, hails from down the road….Crowley, Louisiana.
Mr. Spell is married to Sue and they are the proud parents of Brent, Lisa Boulet and Gayla Evans. Hammer serves the community of Crowley as a "firefighter" and is proud to call Crowley home.
Ricky's softball career spans nearly four generations as he began playing softball immediately out of high school, and continues to compete today, in the senior softball circuit.
Ricky's teams included Allied Discount Tires, Four Way Truck Stop, Coin & Treasure, Burger Time, Massey's, Lake Charles Strokers, Mire KCs, Segura Farms, and currently Randy Smith. Hammer has seven (7) National Championship rings…that's right seven.
3 National Championships with the Mire KCs.
1 National Championship with Segura Farms-50 & Over
3 National Championships with Randy Smith-Seniors
Hammer has always been known to play the game hard, and was considered to be a "hard out". He claims he was best with two outs, and was a RBI machine when it was time to put out, or shut up.
Ricky maintains a lifetime batting average of .750 and has averaged 60 home runs per year, over his 40 year career. That is a whopping 2400+ home runs. The "Hammer".
---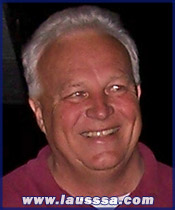 Jim Thibodeaux,
Carencro, LA, Special
Hilliard James Thibodeaux hails from the Midland area, however has resided in the Lafayette area for his entire adult life. Jim is married to Sheila, and they are proud parents to Rachel and Brock, and even prouder grandparents to Gavin.
Jim has been involved in USSSA, in one facet or another for 30 years, and was an original USSSA umpire when the program was introduced in Lafayette in 1979.
Jim played softball for Crowley Schlitz, Crowley Budweiser, Verrett's Grocery, Holiday Inn, Howard Johnson, Lafayette Police Department, and the City of Lafayette.
Mr. Thibodeaux has coached girls slow pitch….Northside Express…and claimed a state championship.
Jim has coached boys slow pitch…CC Pride… and produced another state championship.
And finally, Jim has coached boys baseball….Acadian Athletic Association….and garnered a third state championship.
Regardless of his coaching prowess, Jim's aptitude lies in the area of officiating. Jim is a high school football official, and wears the "WHITE" hat, meaning he is the head official on the field and has officiated high school football for 32 years.
When Rick Robertson, USSSA National UIC, left his State UIC post to move to Florida, Jim assumed the role as USSSA State UIC in 2005.
And last, but not least, Jim is the general manager of Pelican Park, the flagship of USSSA in Louisiana.
---