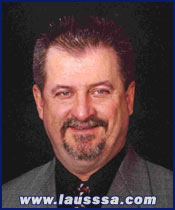 Robert W. Boudreaux, Class of 2000, Executive,
Inducted on Saturday, October 28, 2000; Lafayette Holidome
A fact finding mission on softball in 1981 provided all the excitement to lure Boudreaux to the USSSA. The Lafayette native has served as State Director for Louisiana USSSA twenty years, and is currently serving a second term as USSSA National President. Boudreaux was presented with the "President's Award" in 1982 and 1993 and is only the third USSSA Director to win this prestigious award twice. Robert has served as tournament director for numerous world tournaments including the Men's Major World Series in 1990 and 1991. He also is the founder/promoter of Cajun Classic which hosted 290 teams in the 22nd annual event this past summer. Boudreaux, along with business partners, were instrumental in the construction of Pelican Park in Carencro in 1985. Boudreaux resides in Broussard, Louisiana and is employed by the Knights of Columbus.



---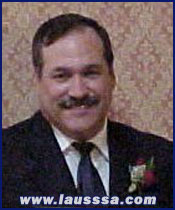 Robert J. deGraauw, Class of 2000, Umpire,
Inducted on Saturday, October 28, 2000; Lafayette Holidome
Joey deGraauw began his USSSA affiliation in 1981 while he was serving as President of the Lafayette Area Softball Association.His entrepreneural spirit allowed the Lafayette association to solicit the original USSSA leagues and tournaments to the Lafayette area. Mr. deGraauw also served the state as State Umpire-In-Chief from 1981 to 1982. deGraauw umpired in the 1981 Church World Tournament, marking his first world tournament exposure. Joey left Louisiana in 1983 and became the USSSA State Youth Director in Oklahoma, a position he held until 1987. In early 1988, Joey moved to North Texas and became a USSSA Area Director, a position he held until 1995. Joey is no longer an active USSSA softball official, however is quite active in the Dallas Area Football Officials Association. Joey currently resides in Little Elm, Texas, and is employed by Software Spectrum, Inc., Dallas.


---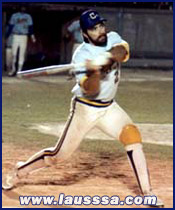 Gary D. Jones, Class of 2000, Player,
Inducted on Saturday, October 28, 2000; Lafayette Holidome
Denny "Uptown" Jones currently resides in Clayton, California and has been a resident of Northern California since 1979 when "big time" softball afforded him the opportunity to move from Louisiana and play for Campbell Carpets. Denny's playing time in Louisiana was with Miller Builders of Shreveport and Ouchita Sports of Monroe. Denny then moved on to the national scene as he played outfield with Dave Carroll Sports based in Sherills Ford, North Carolina. California beckoned and off to Campbell's Carpets, Concord, California. Next was Jerry's Caterers, Miami, Florida and then Capital Insulation, Los Angeles, California. During his career, Jones has slugged over 3000 home runs and maintained a .623 batting average during his 30 years. Jones was named to the Major All World teams in 1979, 1981, 1982 and 1983 and was named "Outstanding Defensive Player" in the 1981 and 1982 Major World Series.


---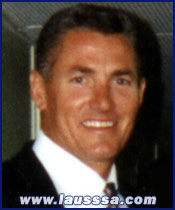 Myles Schexnaydre, Class of 2000, Player,
Inducted on Saturday, October 28, 2000; Lafayette Holidome
Myles Schexnaydre began play in USSSA during 1976, as a player with Dick Hendley of Donaldsonville, Louisiana. The following year Myles moved to Louis Mechanical, Baton Rouge, and then it was onto national power, Nelson Paint, Oklahoma City. During 1978, Nelson Paint claimed the National Championships in all three major organizations and Myles and fellow Louisiana player, Joe Young, were part of the reason. The Gonzales native then moved he and his family to Miami, Florida, to become part of one of softball dynasties, Jerry's Caterers. Schexnaydre remained with Jerry's through the 1982 campaign, at which time he returned to Louisiana. Myles continued playing with the likes of Morgan Boots, Texas; Cable TV, Texas; Ken Michael's, Maryland; Houston Softball Club, Texas; and Athletic Shop, Louisiana. Myles' lifetime batting average is .718 and has hammered out 2114 home runs over his twenty five year career. Schexnaydre attained "All World" status in 1983 while playing for Morgan Boots.


---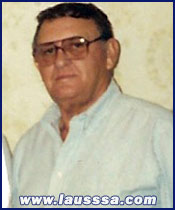 Murphy A. Tauzin, Class of 2000, Manager,
Inducted on Saturday, October 28, 2000; Lafayette Holidome
"Papa Smurf" as he was affectionately known, passed away in January 1993. Murphy coached serveral of the great adult teams in Louisiana. Pat's Seafood, Pete Nicolosi, Bayou Oilfield Rentals and Lou Anna Foods. These teams were constant National tournament participants, and although he never claimed a national championship, his teams were always the best in Louisiana. In 1986, Murphy began the Chez Sidney Softball Club for Boys 18 & Under, and through this youth venture, claimed four National Championships. In 2000, the Chez Sidney organization claimed State Championships in U8, U10, U12, U14, U16 and U18 and also went on to claim National Championships in U10, U12 and U14.

---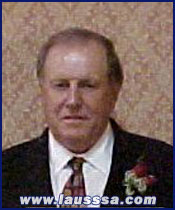 John A. Usie, Class of 2000, Umpire,
Inducted on Saturday, October 28, 2000; Lafayette Holidome
John Usie is an "umpire's umpire." Retired from the U.S. Postal System, John has umpired for 32 years and has become one of the accomplished umpires in the Lafayette area and has called in an untold number of State, National and World Tournamnets. John's first USSSA National Tournament was in Pine Bluff, Arkansas in 1981 (Church World) and he was able to share the experience with fellow inductee Joey deGraauw. John's ultimate umpire experience was calling the "dish" in the championship game of the 1985 World Series in Greensboro, North Carolina. John has served the local umpire association as its President on several occassions and is considered one of the top clinicians in the country. Mr Usie's love of the game began as a player, and was part of the first Louisiana team to ever play USSSA. Ironically, John played for Murphy Tauzin and their participation in the first ever USSSA World Series in Milwaukee, Wisconsin, created quite a stir.

---