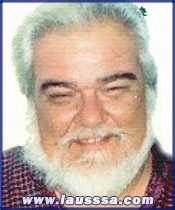 Rickey Bonin,
New Iberia, LA: Manager (deceased)
Ricky Bonin, a lifelong New Iberia native, had been involved in USSSA Softball for some 30 years as a player, manager and umpire. Initially Ricky was a player, but quickly realized his talents were better served in the managerial area, and transitioned to the manager/player, and subsequently to entirely managing the better teams coming out of the Sugar Cane festival city.
Ricky's teams included The Hurricanes, Louisiana Truck Center, David's Buddies, S&B Builders, Lipari's Sporting Goods, D.J. Pipe, Acadiana Telecom and most recently, Phil Haney Softball. If the teams don't ring a bell, listen to his USSSA accomplishments.
USSSA accomplishments:
1995
USSSA Regional
2nd Place
1995
USSSA World
4th Place
1996
USSSA State Champions
1996
USSSA Regional
2nd Place
1996
USSSA World
Top 10 Finish
1997
USSSA State Runner-Up
1998
USSSA Regional
4th Place
1999
USSSA World
2nd Place
2000
USSSA State Champions
2002
USSSA Regional
4th Place
2004
USSSA State
4th Place
2004
USSSA Regional
5th Place
Ricky indicated his biggest USSSA thrill was winning USSSA State with David's Buddies, as this team was playing in memory of David Bourque, who has killed in an oilfield mishap, earlier that year.
Ricky's passion for sports brought him employment with New Iberia Recreation over the past few years, unfortunately, Mr. Bonin passed away unexpectedly in January this year.
His smiling face at the ball park was absent this year, but everyone @ Bank knows he is looking over them.

---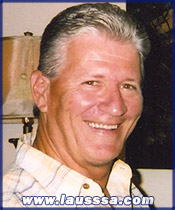 Curtis "Goose" Chiasson,
Cut Off, LA: Player
Curtis Chiasson began playing softball at the young age of 14 and continues to play today at 61 years YOUNG. Some 47 years later and Goose can tell you about the cork center balls and wooden bats, as well as the high energy composite bats of today.
Early on Goose played for Lirette's Wrecker Service, Lockport Gulf, Unico Softball and Dixie Beer. During these formidable years, Goose's teams had much success, but nothing rivals the current success Curtis is experiencing on the "Senior Circuit".
Goose currently plays for Randy Smith, Lafayette, 50 & Over; Randy Heindricks, Houston, 55 & Over, and Texas 60's, in you guessed it, 60 & Over.
Curtis is quick to acknowledge his current success is a result of his remaining injury free over his 47 years of "playing ball".
Goose's accolades include:
Captured 20+ State Championships
15 National and/or World Championships
6 MVP Awards in National and/or World Championships
3000+ Home Runs
Batted 1.000 in 3 World Tournaments
.730 Life Time Batting Average
.857 Batting Average in 2009, including a .933 performance with 8 home runs at the 2009 ASA Nationals which garnered him MVP honors.
In discussion with Curtis, he claims this as his finest accomplishment; "making a new friend at every ball park he ever played in."
Most of loose the burn... the excitement to walk between the lines... Goose says he still gets those nervous butterflies,that nervous anxiety prior to all of his games including league play.
Curtis is married to Cheryl and they have four children: Jared, better known as Woogie, John, Chris and Kandus. The Chiassons reside in Cut Off where Goose serves as a law enforcement officer.
---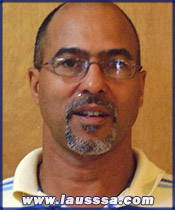 Joey "Joe C" Cuccio,
Duson, LA: Player
Joey Cuccio was born in New Orleans and moved to Crowley at a young age and began playing the game in 1974 and retired in 2002. "Joe C's" 28 year career produced many memorable moments including a 4th Place in the Cajun Classic Major, when playing for Massey's Sports Center.
Mr. Cuccio maintained a .690 lifetime batting average and slugged 710 home runs during his playing days.
A talented defensive player afforded Joey the opportunity to play every position on the field, however "Joe C" will be remembered for his talents at the shortstop and third base positions.
Teams Mr. Cuccio had the opportunity to play for included: Leonards, Inc., Howard Johnson, Carlton's Lay Down Service, PFI, Kildare, TEC, Allied Discount Tire, Acadiana Coin & Treasure, Massey's, Lane & Associates, Waveland Merchants, Bear Creek Steak House, Winning Edge and lastly, nationally ranked, Lafayette Fire & Safety, as well as Randy Smith.
The consummate TEAM PLAYER, Joey relishes the fact that during his 28 year career, the teams he had the opportunity to play with, experienced an 80% winning percentage.
As so many other players and inductees have aluded to, The FRIENDSHIPS made the experience all worth while.
Joey and his wife Loretta currently reside in Duson, and are the parents of Jennifer, Damion and Joey. Mr. Cuccio is currently employed by Luke's Paint & Body Shop.
---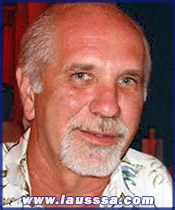 Francis "Butch" Hebert,
Lafayette, LA: Umpire (deceased)
Butch Hebert passed away on December 26, 2007. Behind he left a legacy of softball player, softball manager and more emphatically softball UMPIRE. If you were to look up "umpire" in the dictionary, there might be a picture of the late Francis Hebert.
Born and reared in Lafayette, Butch was a 1972 graduate of Ovey Comeaux High School, where he lettered in all sports during his four year stint as a Spartan. Upon graduation, his desire to compete brought him to the Adult softball arena, and his hand picked Milton Independents were a force to be reckoned with during the late 70's.
The 80's saw the birth of Butch's two daughters, and as they grew, Butch became their coach. He was quite accomplished as he took several CSA All Star teams to USSSA Worlds over a 15 year span of time. During this same period, Butch was instrumental in the formation of the Cajun Sports Association, where he held numerous volunteer positions. His goal was simple….provide quality sports for the girls. His leadership skills and umpire prowess, subsequently landed him the position of CSA "UIC" and "Training Official".
His passion as UIC and TO at CSA, drove him to officiate Girls High School Fast pitch, where he wore the light blue for some 17 years. His professionalism, and demeanor eventually landed him at the college level of officiating in 2004, and was able to officiate fast pitch at the highest level for 3 years.
The consummate teacher. Butch Hebert.
Butch left behind his wife Tammy and two daughters, Crystal and Danielle.
---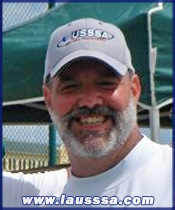 Billy Vaughn,
Metairie, LA: Director
Billy was born on February 12, 1971 to J.D. and Maryann Vaughn. During his youth "Billy V" played various sports in the N.O. area, and his interest in softball as a teenager led to a scorekeeping opportunity at New Orleans City Park. That low paying, inobscure, scorekeeping position, eventually led to his becoming City Park's Softball League Director.
At it's height, Billy operated 11 successful leagues a week.
After being approached in 2002 by myself, Billy became the New Orleans Slow Pitch Area Director. Slow Pitch Tournaments became an immediate success for Billy, as he was the perfect fit, for the sport and the location. It did not take long for "Billy V" to make an impact, as in 2003, Billy was awarded the Louisiana USSSA Slow Pitch Award of Excellence.
In 2004, Billy became the New Orleans Baseball Area Director. Hundreds of tournaments later, Billy has been very succesful by following his motto of always being "Honest and Fair".
In 2008, Billy was named the USSSA Southern Division Director of the Year.
In late 2009, Billy was named Louisiana USSSA Fast Pitch State Director. This new opportunity is quite exciting as he hopes to build a fantastic Fast Pitch program in Louisiana. Billy has also been involved in numerous ELITE Slow Pitch and Baseball World Series Tournaments at Disney's Wide World of Sports.
When asked about the USSSA opportunity, Billy is quick to reply "USSSA has provided him with a tremendous opportunity, and for that, he is extremely grateful".
Billy has been married to his wife Becca for 12 years and they have 3 fantastic children, Wyatt, Sawyer and Annalyse.

---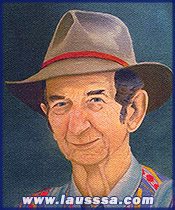 Dr. Robert Weller,
Thibodaux, LA: Special (deceased)
Dr. Robert Weller was introduced to the game of slow pitch softball in the early 80's. A successful chiropractor in Thibodaux, Dr. Weller was a outdoorsman and musician, and somehow developed a passion for the game that stayed with him till his death in 2005.
Dr. Weller was the major sponsor for the Weller Chiropractic men's softball team of Thibodaux from 1983 to 1988. In 1989 and 1990 Weller merged with Heroes Park to form a more competitive team and "Doc" was the major sponsor of this nationally ranked team.
Subsequently, the Heroes Park team disbanded, but under the leadership of Dr. Weller, Weller Chiropractic was reformed in 1994 and stayed in existence until 2000, with Dr. Robert Weller underwriting the entire expense.
In 1989, Heroes Park captured the USSSA Men's "D" State Championship, while Weller Chiropractic won "back-2-back" State Championships in 1996 and 1997 in Men's Class "C".
Dr. Weller was a unique sponsor, as he not only financially supported his players, but physically attended their league games and tournaments across the gulf coast. His financial contribution to the support of Weller Chiropractic Softball and Heroes Park Softball would rival the amounts spent by any sponsor in the nation, during any era of softball.
Dr. Robert Weller always loved sports and truly believed the sport of softball was a way for his son and friends to stay focused on being a success in life, and created the positive influences needed to succeed.

---