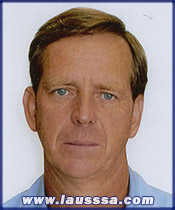 Freddie A. Ardoin,
Lacassine, LA: Manager, Sponsor
Freddie grew up in Lacassine and graduated from Lacassine High School in 1970. He attended McNeese State University for two years, but opted to enter the home building business and started Ardoin & Son Homebuilders with his father. Ardoin & Son has sponsored his daughter and son's softball and basketball teams. Ardoin & Sons "Little Dribblers" won two state championships during the sponsorship years.
Freddie Ardoin began playing softball in 1972 in local tournaments with local teams. Then in 1978, Freddie played and coached for the Friendly Home Center softball team. In 1983 FHC qualified for the USSSA Divisonal Championship is Tulsa, Oklahoma, where they finished fourth among 100+ teams.
In 1981, Freddie opened Athlete's Corner Sporting Goods store in Lake Charles. Freddie then sponsored, coached and played for Athlete's Corner. In 1987, Athlete's Corner won the Cajun Classic NIT and Firecracker NIT tournaments at Pelican Park. They subsequently went on to win the USSSA Class "D" State Championship in Bossier City, competing against 75 of Louisiana's best teams. Athlete's Corner finished that special year with a trip to the USSSA "D" World Tournament in Indianapolis, Indiana, and finished in the top 25% of the field.
Freddie retired from playing after 20 years of competitive play, but continues to sponsor his son and grandchildren's teams under the banner of Athlete's Corner. Most recently Athlete's Corner was a mjor sponsor for the Lake Charles Little League team that finished fourth at the Little League World Series.
Freddie has been married to wife Evadine, an educator, for 36 years. He continues to be part of Athlete's Corner and the family home building business, AH Builders, with daughter Shellie and husband Derick, son Eric and wife Sonya. Freddie also takes pride in passing his love of the game onto his grandchildren Haylie, Hadley, Ava and Cash.
Softball was truly a family affair to the Ardoin's. Besides the support of his wife & children, who loved spending every weekend at parks across the country, his two younger brothers were always on his teams, and his parents, Freddie Sr. and Dot, never missed a game.

---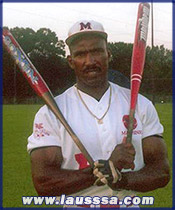 Phillip "Blue" Flugence,
Lafayette, LA: Male Player
Phillip "Blue" Flugence was born to Mazel Norbert in 1960 in the booming metropolis of Broussard, Louisiana. Blue was raised by his mother and grandmother, Melina "Ninny" Norbert.
Phillip's love of softball and advancement in the game came late in life, as Phillip worked as a young man with his uncle John Norbert. However when Blue finally had the opportunity to play, his passion for the sport has driven him to his accolades is the sport we all love so dearly.
Blue's softball career began with the Broussard Angels. Friends and relatives playing together, and succeeding at a high level in the City of Lafayette leagues, back in the day when 300+ teams graced the fields of the leagues in Lafayette. League Championships abounded for the Angels and subsequently the softball talent of Phillip was noticed by competitive teams seeking his talent.
Coin & Treasure, Nero's, Chips, Machines and Bryan Tours, Jackson, MS. Blue's play with Bryan Tours marked his ascent to the pinnacle of the competitive softball arena.
Phillip's most memorable experiences were winning the BASA World Tournaments in 1994 and 1995 with the Machines, and winning the USSSA Black American World in 2001 with Team Focus. All three world championships produced "All World" accolades for Blue as well, but cherishes the team accomplishments more so.
Phillip continues to play for Team Focus today.
Phillip's love of the game has introduced him to youth sports as a coach of his daughter, Jasmine, and son's respective teams. Phillip's son, Terrance, currently plays on the same team with "Blue".
Phillip has also evolved to extremely good sports official from his early beginning days at BYYA and Brown Park and is currently recognized as one of the premier high school basketball officials in the state.
Phillip is married to another softball great, Vanessa Babineaux Flugence, and they have been married for 22 years.

---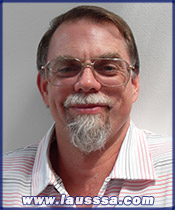 Terrell Hebert,
Lafayette, LA: Director
Terrell was born in Lafayette and has lived here his entire life. He is the son of Roy & Nita Hebert, and has a sister, Sharon. Terrell is a 1978 graduate of Ovey Comeaux High School, and shares that distinction with 2008 fellow inductee, Phillip Flugence, and 2006 HOF Member Dwayne Trahan. Terrell attained his college degree from the University of Louisiana in 2004…that's correct 26 years later….a tribute to his determination to attain the distinction as a college graduate.
In 1983, Terrell's church team, First Baptist Church, Lafayette, heard about the USSSA Church State Championship tournament in Albany and decided to participate. FBC finished as State Runnerp-Up, and Terrell was bit by the USSSA bug. Pelican Park opened the next year and Terrell became an employee of the park and ultimately hooked on softball.
In 1985 Terrell's desire to become more involved had him becoming an umpire and wearing the red. In 1986 Terrell was appointed as the Church Director and continues to serve in the capacity today.
Over Terrell's 22 year tenure with Louisiana USSSA, he has attended numerous seminars, conferences, conventions, national championships and world championships around the country, and notes he has met many wonderful people along the way and has learned much from them all.

Over Terrell's 22 year USSSA career, he has been afforded the opportunity to host and TD National Invitational Tournaments, State Championships and has helped to procure National and World tournaments to Louisiana.
Terrell enters his 20th year as a high school basketball official.
and is currently employed by Ross Tire & Service in Lafayette and serves as a deacon at First Baptist Church

---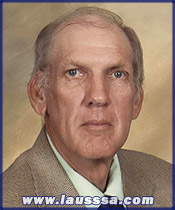 Robert "Squirrel" Landry,
Gheens, LA: Manager
Robert was born in Thibodaux, Louisiana in 1943 and graduated from Thibodaux High School and attended Nicholls State University, where he played basketball his freshman year. While at Nicholls State he met Katie Dufrene and married his college sweetheart in June of 1964. Robert & Katie have three children, Yale, Ashley and Hahn, and four grand kids, Erin, Derek, Kade and Swayze.
Robert began his softball career in 1962 with the St. Charles Greenies, a fast pitch team. In 1963 the Greenies converted to slow pitch, and as the expression goes, the rest is history.
Robert and the Greenies competed for ten years with a great deal of success, but never winning the "big one". Needing a change of scenery, "Squirrel" took his talents to the Raceland Exxon Rebels softball team, sponsored by Mr. Roy Zeringue. Robert played for the Rebels for three years, and in 1976 the Rebels merged with Dixie Beer to form the famous Lafourche Repair Softball team, sponsored by Mr. Herbert Breaux. Squirrel's status with Lafourche Repair was player-coach. In 1976 and 1978 Lafourche Repair completed the year as State Runner-Up, behind Lafayette's Steven's Mobile Homes.
In 1979 Robert's playing days came to an end as he became THE COACH. Robert's legendary teams included: Lirette's Wrecker Service, Industrial Metal Works, Hydro Carbon Specialties, Tiger Audio, Hooters, Millenium, X-treme Sports and Huskers.
THE COACH also found time to form the Babe Ruth Baseball league in Raceland and coached his two sons for several years.
In all the years that Robert played and/or coached, 1962-2004, he had never won a State Championship. That all changed in 2002, when X-treme Sports captured the USSSA, ASA and ISA state championships.
Robert worked for Witco Chemical Corporation for 23 years, 15 of which were as a production supervisor. Robert is currently medically retired from Witco, but continues to keep busy as Recreation Director in Gheens, does some insurance work, and raises cattle with his sons.
Katie & Robert's leisure time now consists of following the activities of their four (4) grandchildren.
---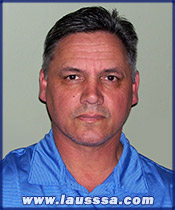 James Martarona,
Abbeville, LA: Umpire
James was born and raised in Lafayette and was a 1974 graduate of Northside High School, and is a proud Viking. As a child, James participated in baseball and football and is remembered as being a dominant pitcher in his early years.
Upon graduation, James began playing slow pitch softball as so many of his friends did and played for the likes of Independent Builders, Domingue Sand & Gravel, and Teurlings Knights of Columbus. James' love of sports also flowed over into coaching, as James began to coach youth softball and football.
James' desire to do more in the sports arena, and on the suggestion of a co-worker, James joined the local umpire association and his new love flourished almost immediately.
Initially James umpired baseball, slow pitch softball and fast pitch softball, but it was the intrigue of the fast pitch game that drove the Viking to pursue his current passion.
As James' skill of officiating elevated, so did the requests for his services, and before your very eyes, local softball enthusiasts viewed the development of one of the best fast pitch umpires in the country.
James' has served as Louisiana USSSA Fast Pitch UIC and has also served as Assistant State Director under Neggy Trahan. James has officiated in numerous USSSA Qualifiers, NITs, State and National Championships, however his greatest accomplishments have been on the NCAA stage as James has officiated at the Division 1 level now for nine (9) years, has officiated in nine (9) NCAA Conference Tournaments.
As a reward for his high level of professionalism and ability, James had officiated in FIVE (5) NCAA Division 1 Regionals, and ONE NCAA SUPER REGIONAL.
In 2009 James will be eligible to officiate in the NCAA College World Series, provided he has another banner year.
James is employed by the Lafayette Utilities System for 24 years and has five (5) children and four (4) grand children.

---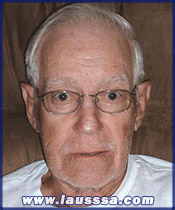 Wilcide "Pee Wee" Menard,
Opelousas, LA: Special
Joseph "Pee Wee" Menard was born in Youngsville, Louisiana in 1932. At the age of eight (8), Pee Wee and his family moved to Lafayette and he attended Central Elementary School and later Lafayette High.
Pee Wee enlisted into the United States Army and was stationed at Ft.Hood Texas for two years. Upon completing his tour with the Army, Pee Wee moved back to Lafayette and began working at American Optical. Subsequently Pee Wee moved on to Southern Optical where he worked for over 35 years, finally retiring at the age of 65.
Pee Wee began his love affair with the game of softball in 1967, when he began umpiring at the old Pa Davis Park. He still remembers fellow umpires Earl Chris and Paul Trahan, who helped him understand all the intricacies of his new love.
As Pee Wee became more attracted to the game, his role began to change. He decided that he wanted to see what it was like from the other side of the umpire's mask, and began his coaching career in 1970 as the coach of Duson Pharmacy.
From 1970 to 1980, Pee Wee stalked the dugout and coaches box for Duson Pharmacy, and for those ten (10) years, the loyalty of his players was unparalleled, as the roster DID NOT CHANGE one player. Unheard of in today's softball climate.
During the 80's, Pee Wee began coaching coed and women's teams, as well as his men's team, not to mention finding the time to umpire three nights per week. In the late 80's his love of coaching began to outweigh his passion for umpiring. Although he continued to umpire, most of his time was spent coaching.
During the 90's developed a friendship with Troy Faulk and two began coaching together, and been since then. For the last 15 years, Joseph could be seen at Pelican Park in the coach's box, coaching his teams to over 30 league championships.
Pee Wee is now in his 42nd year of softball involvement.
Pee Wee is the proud father of one son Robbie, and one daughter Hannah. Robbie has played for his father for years.
Pee Wee will celebrate a birthday in two days…October 27.
What a way to celebrate his 76th birthday.

---