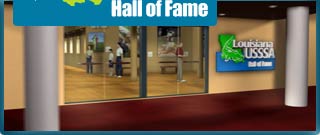 Do you have a recreational facility?

If you have a recreational facility and need help getting sporting events into them contact the Louisiana USSSA State Office for additional details.
Locate upcoming tournaments.

Check to see how your team is ranked, maintain team statistics, show your team pride with team and player photos. Achieve all these functions, plus many more at the USSSA National Website. www.usssa.com. Check it out today!

Nomination and selection for the Louisiana USSSA Hall of Honor shall be based on distinguished achievements in association with Louisiana USSSA.
All nominations shall be made in writing by a Hall of Fame Committee Member and must be submitted no later than September 15th.
Selections shall be made by the Hall of Fame Committee and announced at the Hall of Fame general membership meeting. Selections shall be inducted and recognized at the Hall of Fame Induction Ceremony
Class of 2019:
Class of 2018:
Class of 2017:
Class of 2016:
Class of 2015:
Class of 2014:
Class of 2013:
Class of 2007:
Class of 2006:
Class of 2005: