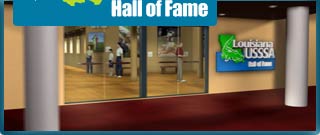 Do you have a recreational facility?

If you have a recreational facility and need help getting sporting events into them contact the Louisiana USSSA State Office for additional details.
Locate upcoming tournaments.

Check to see how your team is ranked, maintain team statistics, show your team pride with team and player photos. Achieve all these functions, plus many more at the USSSA National Website. www.usssa.com. Check it out today!


New Iberia Recreation Softball Hall of Fame, New Iberia
Pat Thibodeaux and Larry Hensgens founded the N-I-R-D Hall of Fame, inducting the hall's first class. To date, the N-I-R-D Hall of Fame has inducted 148 players, managers, sponsors, umpires, and ambassadors of the game who contributed to the growth of softball in New Iberia. Next month, the N-I-R-D Hall of Fame will induct eight new members as part of its 20th anniversary class.

Each spring, the N-I-R-D Hall of Fame hosts its annual hall-of-fame game, in which its members take the field for a three innings so they can not only enjoy the game they helped grow, but also so the N-I-R-D can thank them for all they have given to softball.