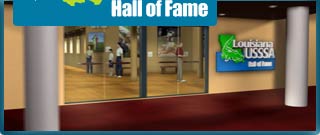 Do you have a recreational facility?

If you have a recreational facility and need help getting sporting events into them contact the Louisiana USSSA State Office for additional details.
Locate upcoming tournaments.

Check to see how your team is ranked, maintain team statistics, show your team pride with team and player photos. Achieve all these functions, plus many more at the USSSA National Website. www.usssa.com. Check it out today!


Slocum Construction, Alexandria
Jerry Slocum put together the Slocum Construction Softball Team in 1965. Three years later, the team from Alexandria won its first state championship. Slocum fielded a team without interruption for the next 24 years, competing in Regional and World Tournaments in Louisiana, Mississippi, Texas, Oklahoma, Florida, and Ohio. Slocum played, managed, and sponsored a competitive team through the 1989 season. And while it's been more than 30 years since Slocum Construction took the field, the name is still associated with slow-pitch in Central Louisiana.