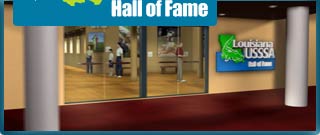 Do you have a recreational facility?

If you have a recreational facility and need help getting sporting events into them contact the Louisiana USSSA State Office for additional details.
Locate upcoming tournaments.

Check to see how your team is ranked, maintain team statistics, show your team pride with team and player photos. Achieve all these functions, plus many more at the USSSA National Website. www.usssa.com. Check it out today!


PSC, Georgetown
It's a team that's had several names: Monroe Sports, Terry's Logging, and finally the P-S-C. But one thing remained constant during the team's 21 years: the seven young men who started the team stayed together throughout the P-S-C's run on the softball circuit.

And the Pentecostal Softball Club did it all. They won a total of 12 state championships across every classification-from E to A. They represented Louisiana USSSA in tournaments in nine different states and in 15 World Series.

The Pentecostal Softball Club won the 1995 National Championship, finished second in three World Series, and picked up several other Top 5 finishes along the way. In fact, this team from Georgetown was ranked number-one in the United States and held a spot in the Top 10 for several years.

Dennis Evans led the team. His players credit him with not only being an outstanding coach, but also with having a Godly character that the players on this Christian team wanted to emulate.

Peter Mercer was one of the catalysts for the P-S-C's success. His teammates described him as an "awesome team player" who helped lead the squad to its successes.

Tom Donell also played a critical role in the team's success, sponsoring the team over the years and serving as a friend to all of the players. Tonight, these men will take their spot in the Louisiana USSSA Hall of Honor. Can I get an "amen?"