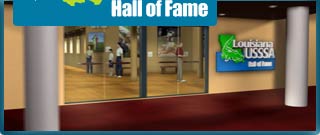 Do you have a recreational facility?

If you have a recreational facility and need help getting sporting events into them contact the Louisiana USSSA State Office for additional details.
Locate upcoming tournaments.

Check to see how your team is ranked, maintain team statistics, show your team pride with team and player photos. Achieve all these functions, plus many more at the USSSA National Website. www.usssa.com. Check it out today!


Visit Lake Charles, Lafayette
Visit Lake Charles has been a partner of Louisiana USSSA for 20 years. Initially, the tourism bureau helped sponsor a small handful of USSSA baseball events a year to more than 20 annual tournaments, including three weekends of the Governor's Games, two weekends of other state tournament events, and the weeklong World Series. Visit Lake Charles worked with USSSA to bring National Pro Fastpitch Series to Southwest Louisiana. They've also sponsored numerous USSSA Junior Golf tournaments. Because of the commitment and partnership between Visit Lake Charles and USSSA, the local governments in Southwest Louisiana, including the City of Lake Charles, the Calcasieu Parish Police Jury, and Ward 3 Recreation have made major investments in their playing fields to bolster sports participation. USSSA has also been a major partner in supporting local high school athletic programs, law enforcement, and the non-profit group Ainsley's Angels.