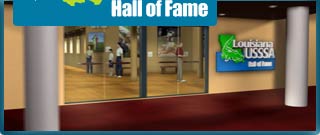 Do you have a recreational facility?

If you have a recreational facility and need help getting sporting events into them contact the Louisiana USSSA State Office for additional details.
Locate upcoming tournaments.

Check to see how your team is ranked, maintain team statistics, show your team pride with team and player photos. Achieve all these functions, plus many more at the USSSA National Website. www.usssa.com. Check it out today!


Steven's Mobile Homes, Lafayette
Many of the players on that team began their playing careers more than 60 years ago. The nucleus of the Steven's Mobile Homes squad began playing in the late 1950s and early '60s on the Prof Erny's Music team, with Raymond Roach recruiting most of those players. They went on to win multiple district, state, and regional championships under that name. As Clark Sherwood, this team won several national invitational tournaments and won the national championship tournament in Baltimore. They later played under the banner of the Lafayette Building Association, winning more state and regional titles during that time.

Several years later, Milton Stevens began sponsoring the team. Under the Stevens Mobile Homes name, the team began playing in the Masters division. There, they won many more invitation and state championships. The team credits its later success to using a rotational system to allow any 10 of its 12 men to play. That unselfish attitude allowed players who were having great tournaments continue to play, while others sat on the bench knowing their teammates would get the job done. Their motto: 'It's hard, but it's fair." The same nucleus that formed the team some 60 years ago still gets together, except they do so on the golf course and at occasional gatherings.