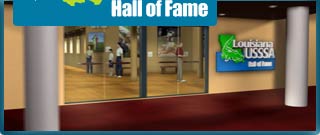 Do you have a recreational facility?

If you have a recreational facility and need help getting sporting events into them contact the Louisiana USSSA State Office for additional details.
Locate upcoming tournaments.

Check to see how your team is ranked, maintain team statistics, show your team pride with team and player photos. Achieve all these functions, plus many more at the USSSA National Website. www.usssa.com. Check it out today!


Duffy's Softball, Napoleonville
In their 10 years of playing USSSA softball, Duffy's racked up an impressive 30 tournament championships. The Napoleonville-based team formed in 1997 and was a winner immediately. In 1999, they finished as state runner-up. They followed that performance with a fourth-place finish at regionals. That's out of 108 teams. One year later, Duffy's Softball won a state championship and finished in second place at nationals. They claimed two more state runner-up finishes in 2001 and 2002. Duffy's also twice finished in second place at the Cajun Classic, once in Class C and once in Class D. The team disbanded in 2006, but they are remembered as one of the best teams of their generation.