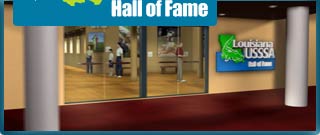 Do you have a recreational facility?

If you have a recreational facility and need help getting sporting events into them contact the Louisiana USSSA State Office for additional details.
Locate upcoming tournaments.

Check to see how your team is ranked, maintain team statistics, show your team pride with team and player photos. Achieve all these functions, plus many more at the USSSA National Website. www.usssa.com. Check it out today!


Bruce's Distributing, Shreveport
The team only existed for four years, but in that short time, Bruce's Distributing left its mark on Louisiana USSSA history. The Shreveport-based team was the very first Louisiana USSSA state champion, winning the Class B state title in Abbeville in 1981. In fact, Bruce's Distributing won state championships in every year of the team's existence. In addition, they took fourth place in the Midwestern Regional in 1981. They also finished in the national top 20 each year from 1982 to 1984.