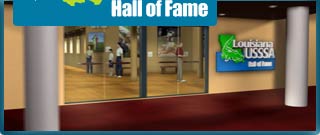 Do you have a recreational facility?

If you have a recreational facility and need help getting sporting events into them contact the Louisiana USSSA State Office for additional details.
Locate upcoming tournaments.

Check to see how your team is ranked, maintain team statistics, show your team pride with team and player photos. Achieve all these functions, plus many more at the USSSA National Website. www.usssa.com. Check it out today!


Ton's Drive Inn, Broussard
Ton's Drive Inn is best remembered for two things: winning and their uniforms. Their jerseys were brown-and-yellow with Houston Astro-type stripes. The team, which played together throughout the 1980s, traveled the United States from Georgia to Texas and far beyond winning numerous tournaments. Led by their coach and third baseman Yvette Girouard, the team featured players who also starred on Girouard's USL Lady Cajuns squad. Girouard brought same "family" concept she introduced at USL to the Ton's summer team, helping her players create friendships and bonds that last to this day. For some of the players, the highlight of the day was leaving practice and eating fried pork chops and other delicious meals at Ton's, the restaurant owned by Girouard's parents who sponsored the team.