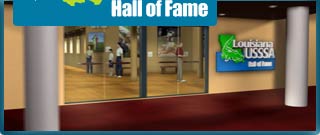 Do you have a recreational facility?

If you have a recreational facility and need help getting sporting events into them contact the Louisiana USSSA State Office for additional details.
Locate upcoming tournaments.

Check to see how your team is ranked, maintain team statistics, show your team pride with team and player photos. Achieve all these functions, plus many more at the USSSA National Website. www.usssa.com. Check it out today!


Pete Nicolosi, Lafayette
Pete Nicolosi. In the team's 10-year existence, Pete Nicolosi won eight state championships and qualified for multiple regional and world tournaments. Those tournaments took the team all across the United States in Pete's motor home or, on occasion, in a chartered bus. Led by manager Murphy Tauzin, the Pete Nicolosi lived and breathed softball. Still, they managed to keep their faith a priority, attending Mass as a group every weekend they played.