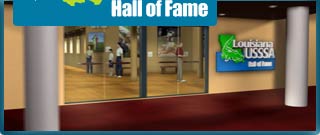 Do you have a recreational facility?

If you have a recreational facility and need help getting sporting events into them contact the Louisiana USSSA State Office for additional details.
Locate upcoming tournaments.

Check to see how your team is ranked, maintain team statistics, show your team pride with team and player photos. Achieve all these functions, plus many more at the USSSA National Website. www.usssa.com. Check it out today!


Louis Mechanical, Baton Rouge
Louis Mechanical's history begins in 1967, when a group of high school and grammar school friends joined a Baton Rouge fast-pitch league. Their pitching was lacking, so they quickly accepted an invitation from their high school coach to join an upstart slow-pitch league. The rest is history. Over the next 13 years, Louis Mechanical played in an average of 90 games per year, racking up a ton of championships in the process. From 1977 to 1979, Louis Mechanical won three district titles, as well as the 1979 State Major Championship. Among their chief rivals during that time: Our previous Hall of Honor inductees, Pete Nicolosi. The team disbanded in 1980, but the relationships between Louis Mechanical's players is strong to this day.