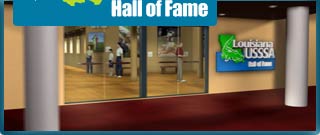 Do you have a recreational facility?

If you have a recreational facility and need help getting sporting events into them contact the Louisiana USSSA State Office for additional details.
Locate upcoming tournaments.

Check to see how your team is ranked, maintain team statistics, show your team pride with team and player photos. Achieve all these functions, plus many more at the USSSA National Website. www.usssa.com. Check it out today!


Kate Latter's Women's Team
Kate Latter's was composed of a group of friends who had played sports in the New Orleans area for years.

In 1986, they decided to play softball at a more competitive level and registered for the Cajun Classic at Pelican Park in Carencro. They were slotted in Class C, and they quickly realized that they could compete with the best teams in the field.

In 1987, they graduated to Class B, winning numerous tournaments and the regional championship. In 1988, Kate Latter's moved up to Class A and earned one of 16 spots in the World Series. In 1989, Kate Latter's returned to the World Series, placing fifth overall.

Kate Latter's would go on to play in two more World Series after that fifth place finish.