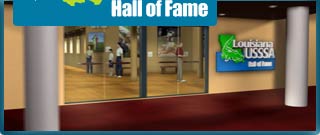 Do you have a recreational facility?

If you have a recreational facility and need help getting sporting events into them contact the Louisiana USSSA State Office for additional details.
Locate upcoming tournaments.

Check to see how your team is ranked, maintain team statistics, show your team pride with team and player photos. Achieve all these functions, plus many more at the USSSA National Website. www.usssa.com. Check it out today!


Charlie's Pride Boys Youth Team
Positive. Responsible. Integrity. Dedication. Enthusiasm.

That's what "pride" meant to CC's Pride. It's also the qualities the team exhibited when they took the field.

Formed in 1989 at the Acadiana Athletic Association by Travis Hargroder and Ronnie Broussard, C-C Pride gave boys between the ages of 11 and 14 an opportunity to play softball.

CC's Pride started by playing in a league for 16-year-olds because there were no leagues for younger boys. Early on "C-C Pride" struggled, only winning a few games. By sticking to their core principles, the team became one of the top teams in Louisiana and the United States, winning multiple league and tournament championships during their 17-year history, including the Cajun Classic.

The team disbanded in 2006, but many of its alumni continue to play the game with different teams.