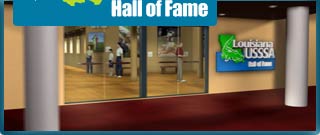 Do you have a recreational facility?

If you have a recreational facility and need help getting sporting events into them contact the Louisiana USSSA State Office for additional details.
Locate upcoming tournaments.

Check to see how your team is ranked, maintain team statistics, show your team pride with team and player photos. Achieve all these functions, plus many more at the USSSA National Website. www.usssa.com. Check it out today!


Weller Chiropractic
When you think of teams from "down the bayou", Weller Chiropractic always comes to mind.

Formed in 1983, the Thibodaux based adult softball players where highly competitive in the first five years of existence, however did not claim any state championships. And after the 1988 season, opted to move under a new banner, Hero's Park, when they captured their FIRST state championship in 1989.

Also in 1989, Dr. Weller's son, Ted left for college, in Dallas, so the Weller team would not come back into existence, until his return in 1993. Weller Chiropractic would become highly competitive in a short period of time, and captured BACK-2-BACK STATE CHAMPIONSHIPS in 1996 and 1997. Weller Chiropractic disbanded as regular team in 2000.

In 2002, the nucleus of Weller got together to play two or three local tournaments.....and guess what....WON STATE CHMPIONSHIP.

In 2005, Dr. R. F. Weller, their long time sponsor and supporter passed away. In a tribute to Dr. Weller, the team got together to play the state tournament in Thibodaux, their home town and participated under the name. "TEAM R.F". And you guessed it... in dramatic fashion, TEAM RF capture the IF game of the championship in the seventh inning.

All the players will attest, R.F. was with them the entire time!