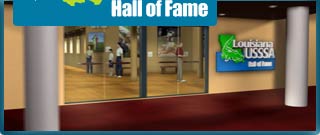 Do you have a recreational facility?

If you have a recreational facility and need help getting sporting events into them contact the Louisiana USSSA State Office for additional details.
Locate upcoming tournaments.

Check to see how your team is ranked, maintain team statistics, show your team pride with team and player photos. Achieve all these functions, plus many more at the USSSA National Website. www.usssa.com. Check it out today!


Cajun Starz
Formed in 1988 as a girls slow pitch team.

Under the leadership of Mona Lafleur, these young girls developed their Slow Pitch softball skills and within a few years were recognized as one the strongest teams, not only in Louisiana, but the entire country.

In 1990, the Cajun Starz participated in their first USSSA World Tournament in Lubbock, Texas and captured FIFTH PLACE, as well as the BEST DRESSED award.

Ponytail Classic, Scott World Qualifier, Bayou NIT and Cajun Classic NIT were the local events, where Cajun Starz dominated play, and created their power mystique. Their success continued each year as they captured numerous STATE CHAMPIONSHIPS and advanced to USSSA Worlds each year, which included travels to Texas, Oklahoma and South Carolina.

In 1994 the focus shifted to FAST PITCH and the dominance continued. In 1998 Cajun Starz participated in the USSSA World Tournament in Virginia, and placed SECOND among 54 teams.

The Cajun Starz continued their fast pitch exploits until 2002 when the team was disbanded. During the 14 year history of the Cajun Starz, some 80+ girls wore the Red, White & Blue, with a large number advancing to participate at the college level.